We've recently expanded our podcast… Welcome to Life Check Yourself. Every week you'll get the raw truth from top experts and real people on the important life and love issues you want to know about. Whether you are laughing out loud, frantically writing down the exact words to live your most authentic life, or finally understanding why something isn't working in your relationships, this is true talk that's unfiltered to help you create a life filled with more fun, freedom, fulfillment, and meaning.
 So if you're ready to life check yourself … in your relationships, your career, and the areas of your life that matter most to you … And you're not afraid to be called out on your uh, stuff then you're ready for what's next!
Check out our previous episodes here on this page and subscribe so you don't miss an episode!
All
Breakups And Bad For You Men
Dating And Relationship Skills
Dating for The High-Achieving Woman
Just Tell Me What to Say
Why Am I Still Single?
Life Check Yourself 426 – The 7 Dating Mistakes You Are Probably Making (and Don't Even Realize it) with Evan Marc Katz
"Dating Guru Marni Battista combines heartfelt experience with extensive practical guidance to provide proven solutions to finding and dating high quality men. Her advice will give you everything you need to finally find the love of your life. Highly recommended!"
Here's what our clients have to say:
After many failed attempts with relationships, I no longer wanted to be the girl laying on the bathroom floor sobbing due to a broken heart. At just the right moment, I came across and took Marni's courses. Shortly after I had my first interaction with Tom, my now husband, and I was able to put all the things I learned into practice. I am forever grateful for the wisdom I gained from Marni's program that led to the ultimate blessing of finding the most amazing, partner, friend, lover, and husband I could ask for!
Martin and I are now celebrating our 3rd Christmas together and we simply could not be happier. Our relationship is exactly what I had in my vision and I remain super grateful for the work we did during the LA workshop. 
Trekking over 300km in the high Himalayan Mountains with the love of my life is my definition of bliss. Your program remains the most life-changing program of my life.
Thank you for the knowledge you have given me. The information has continued to be life changing. I had struggled with finding a relationship since the beginning and often blamed myself 'I am not good enough' and that no one would love me.
I am so blessed that I choose to take the leap since what you taught me has change the perspective about myself. The support from you, Tessa and the group, being in a place to open up in a safe space, and now finding love for life.
Marni helped me to see that what I was doing wasn't going to lead me to where I wanted. If I hadn't followed the guiding hand of Marni, I wouldn't have been ready to accept the moments and opportunities presented to me every day. I wouldn't have met Mark. Having Marni hold me accountable made it easy to recognize when Mr. Right came along.
I have great news! I got engaged this Saturday!
Thanks so much for all your help this past year. I'm super happy!
(Since Neha's wedding last year, she and her husband Rupen welcomed a baby into the world!)
I came to you in the midst of a breakup, the end of yet another destructive relationship on the heels of divorce. I met the love of my life within three months of beginning work with you, and now we're moving in together and joining our lives...I'm staying with you, Marni.
7 years and 3 kids later I have the life I've always dreamed of....relationships are not easy, but I still use the tools that I learned with Marni to communicate, problem solve and love life! THANK YOU Marni!!!!
Through your program, I realized I was being a victim my whole life, which was the most eye opening part. It helped me to see things differently and change who I was so that I wasn't going back to my old habits. I got a great guy that has helped me to grow and be a better person. I am so grateful to you.
You had a huge influence on my life decisions and I'm eternally grateful for that!
I had a wonderful life, an amazing successful career, family and friends, but the only thing missing was my dream guy. I could just not figure out why this part of my life was so lacking. After I joined Marni's program, I was able to see very clearly what was holding me back. EYE OPENING BREAKTHROUGHS.
I trusted and I leaned all the way into Marni's coaching program, and—not only did I find love in my life, the longest, most fulfilling relationship I've ever had—all parts of my life are more fulfilled. I am so grateful that I did. It has been an amazing journey!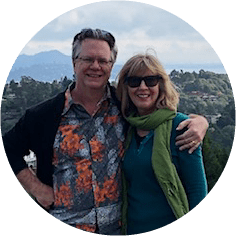 I was in my 50's and I didn't know how to date or make good judgements about men. I had begun to wonder if it was just too late. Marni quickly cut to the chase and helped me see where I was confused and stuck in unhelpful patterns. A month later I met Trevor at an event and our relationship blossomed quickly. Fast forward to 2020, we have been married for three and a half years and no regrets – I feel very lucky to have been given a second chance.